Wanstead resident Jean Medcalf has published her first poetry book at the age of 89. To Everything There is a Season is a collection of lyrical, spiritual poems about nature. In the sixth of a series of articles, Jean introduces a poem about Easter and remembers her time at church. Painting of Wanstead United Reformed Church by David Kavanagh
My husband and I were married at St Mary's Church in 1957 by my husband's uncle the Rev John Medcalf (known as Jack), who was the vicar at that time. The Medcalf family were regular worshippers at St Mary's and they have a family tomb in the churchyard. Uncle Jack and his wife had recently bought their first television set and they could never agree on which programme to watch – they used to go to their next-door neighbour and ask them to arbitrate!
After we had children, we went to the Congregational Church (now the United Reformed Church) on Nightingale Lane as it was closer to our home. The vicar at the time was the Reverend Alan Bound, who was very nice. This church has an interesting history, as it used to stand on the site of the current St Pancras Station. When the station was planned, the church was dismantled stone by stone and rebuilt in Wanstead. The church appeared on Songs of Praise in 1966.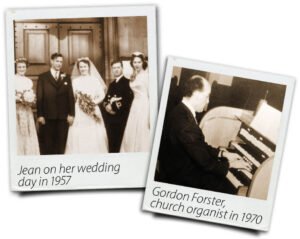 My children went to Sunday School there, run by Mrs Chew and her husband; they also joined the Cubs and Girls' Brigade. We soon got to know the Forster family: Gordon Forster was the church organist and became a great friend of my husband, as they both loved organ music. Gordon actually built the organ console himself, and the photo here, taken in 1970, shows him playing it.
Eileen Forster was the captain of the Girls' Brigade. She lived near me, and her daughter Celia used to walk my daughter there each week. The girls did lots of badges, and they also did army drilling where they had to stand at attention, stand at ease and learn how to march in step! The Girls' Brigade held a reunion to celebrate its centenary a few years ago, and Eileen attended at the age of 87 and cut the celebration cake.
The Scout troop used to put on a Gang Show every year with songs and comedy sketches, which was very popular. Our neighbour Dennis Anderton used to help with the Cubs and he sometimes took his labrador along with him. This dog had a strange habit of howling loudly in the back garden every Monday and Wednesday evening – we later discovered that he couldn't bear the theme tune of Coronation Street!
As well as Scouts and Girls' Brigade, the church hall was also used for the baby clinic, jumble sales and dances, summer fetes and Christmas bazaars, and a May fair with the crowning of a May Queen. It was also used by the amateur dramatics society The Cromwell Players, which was also run by Mr Anderton.
I joined the Christ Church Young Wives group too – it was similar to the Mothers' Union but no doubt Young Wives sounded more modern. I made some good friends there – and we are still friends 50 years later.
---
Moveable Feast:
Easter, St John's
by Jean Medcalf
Sorry, God
I've not been to see You
For so long – until Today
Forgive me
I'd forgotten the beauty of Communion
Forgotten the peace of God
which passeth all understanding
Forgotten the Paschal Candle
The Paten and the Chalice,
the wafer and the wine,
The height of the church
where I was confirmed
It was like coming home
Take, eat, this is my Body
which is given for you
This is my Blood of the New Testament
Do this in remembrance of me
I'd not presumed to come to thy Holy Table.
Like Martha,
I'd been cumbered about
with much serving
I'd been careful and troubled
about many things
Family, friends, house, dog, garden.
I'd forgotten that good part,
the needful thing
But now I've remembered, presumed and returned
Now I'm back
I won't leave it
So long
Next time.
---
Jean's book To Everything There is a Season is available in paperback (£4.75). Visit wnstd.com/jean
To view more of David Kavanagh's local artwork, visit wnstd.com/kavanagh