The Thames21 project is making improvements to the River Roding adjacent to Wanstead Park. Catchment Partnership Development Officer Will Oliver provides an update in the second of a series of articles
The environmental charity Thames21 has joined forces with Vision Redbridge Culture and Leisure, City of London (Epping Forest) and the Friends of Wanstead Parklands to improve habitats within a stretch of the River Roding bordering Wanstead Park.
By adding fallen trees to the channel, we can provide homes for a wider variety of animals and plants by encouraging the river to 'rewild' itself away from its current straight, featureless form.
In the December edition of the Wanstead Village Directory, I discussed in more detail how this process works. But before work on the Roding can commence, we must first secure a Flood Risk Activity Permit (FRAP) from the Environment Agency (the government body responsible for protecting the environment).
Bar a few exceptions, all work that happens in a main river or on its floodplain must have a FRAP. This permit is only granted if the work will not increase the flood risk to properties or businesses. Since my last article, the Thames21 river restoration team have written up their plans to improve the Roding alongside Wanstead Park through the addition of staked and secured fallen trees. These have been submitted to the Environment Agency and, all being well, we hope to be awarded a FRAP by the end of February. We will then be contacting volunteers to carry out the river improvement project.
Whilst we wait for this permit to be approved, it's a good opportunity to highlight a similar project which Thames21 has recently completed on the River Cray at Footscray Meadow, Bexley in south London.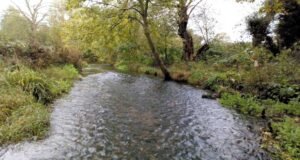 The River Cray is one of only 200 chalk streams in the world. Unlike rivers such as the Roding, which receive large amounts of rainwater, chalk streams are almost entirely fed from underground water stores, which rise through chalk bedrock. This filtered water means a chalk stream should run crystal clear. Just like the Roding, the River Cray has been artificially straightened and widened over the years, reducing the value of the habitats it holds. In 2020, Thames21 worked with local volunteers to introduce 16 fallen trees to the river channel alongside Footscray Meadow. The photos above shows a section of the Cray before and after fallen trees were used to narrow the channel. Already, the processes described in my last article have been kick-started with the river developing wilder areas for animals and plants to thrive.
Fingers crossed, we'll soon be seeing similar improvements in the Roding!
---
For more information and to get involved with the Thames21 project in Wanstead Park, email will.oliver@thames21.org.uk